The project is funded by the Language Fund.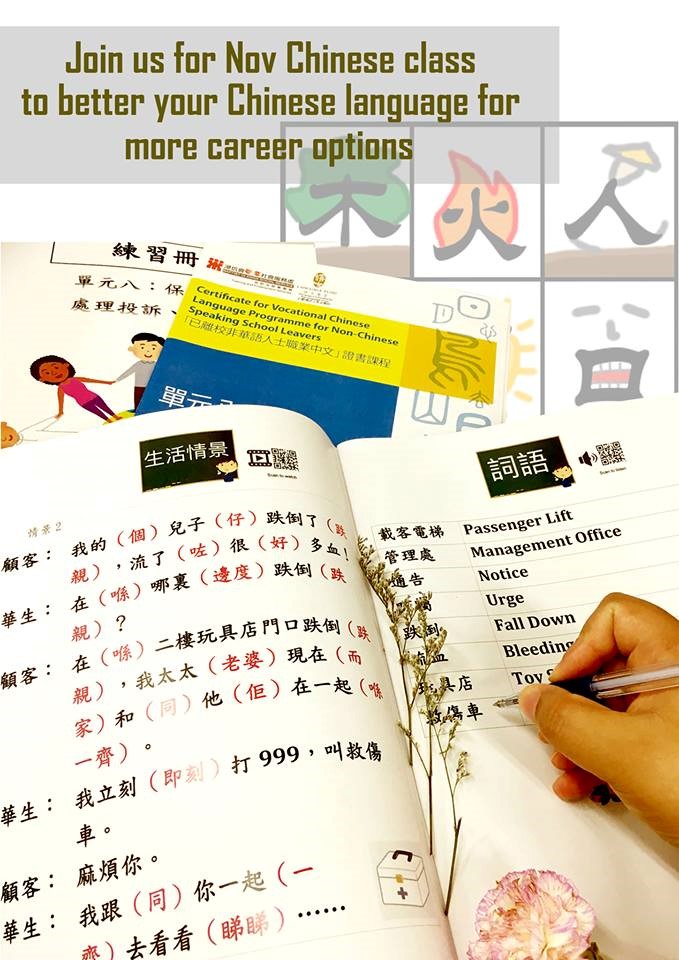 Why Choose Us?
- Have experienced university teachers to design and to teach the course
- Enhance your Chinese practical reading and writing skills related to workplace
- Learn Chinese vocabulary useful in workplace
- Teach in small class with interactive learning
- Provide work referral & workplace support service
---
Target Participants
- Non Chinese Speaking school leavers aged 15 or above
- Hong Kong residents
- Possession of basic English literacy skills
- Planning to further studies or work in Hong Kong
---
Course Summary
Course Duration: 10 weeks, 20 classes, 3hrs per session
Venue: 2/F, 323 Shun Ning Road, Cheung Sha Wan, KLN, HK
Tuition Fee: HK$800
**Rebate of 85% off the tuition fee upon meeting the 80% attendance requirement
---
Medium of Instruction
Classes are conducted in Cantonese, supplemented by English. Course materials will be in Chinese.
---
Award
Students will be awarded "Certificate for Vocational Chinese Language Programme for Non-Chinese Speaking School Leavers " issued by Baptist Oi Kwan Social Service upon fullling pass requirements of the course.
---
Enquiry
Address: 2/F, 323 Shun Ning Road, Cheung Sha Wan, KLN
Tel: 2708 8461
Emil: ghamalanita@bokss.org.hk