Service Rationale
Hong Kong has experienced pandemic and there is a negative atmosphere in the society. In the face of adversity, the negative emotions of family members increase.If the accumulated negative emotions are not relieved, the individual's ability to regulate his or her emotions becomes unbalanced.If emotions are not handled properly, family relationships can be damaged, especially when children need to develop a sense of security, but when parents are unable to respond to and carry their children's emotions due to their own distress, children's anxiety is exacerbated, making it more difficult for parents to respond to their children's needs.In addition, adversity also affects a child's self-esteem, for example, a child's shyness in expressing his or her family's difficulties and fear of disapproval can lead to a lowered self-image. Family adversity therefore has a negative impact on mental health in three ways: 1) imbalance in emotional regulation, 2) weakness in family relational connection and 3) low self-image.
The Family Happy MAP Project addresses these three key needs, by introducing the three MAP components to establish the emotional health of the family.

---
Services Objectives
The "Family Happy MAP Project" creates a new system to support parents and children who are emotionally stressed due to the change in family structure. The project is using 3 intervention methods: Mindfulness practice, Art and Play to enhance the family cohesion and attachment. Three elements are promoted for facilitating the family mental wellness in this project:

Mindful Awareness: To strengthen the family awareness on emotional regulations.
Attachment: To support the families with stressed relationship and to reconcile the disputed parent-child relationship by forming the secure attachment relationship.
Positive Self Worth: To assist the families to identify family strengths and resources for promoting the positive family image.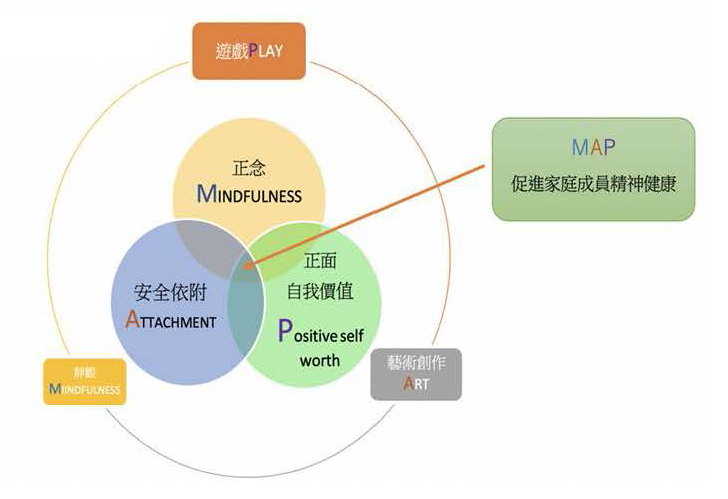 ---
Services Contents
Through three levels of intervention, including: psychoeducation programme, therapeutic groups and case counseling to approach the families in need and promote the family well-being
MAP facilitator training program

me

: To provide training for profession, such as social workers, counselors, teachers, etc., so that the participants can master the concept of "MAP" and use those concepts in their workplace to promote the family well-being.
Psychoeducation programme: Parents talk, Self-help package workshops as well as parents group are included.
Therapeutic groups: Parent-child therapeutic groups (Mindful practice to regulate the emotions, Use of art to enhance family attachment, Use of play (Lego) to enhance positive self-worth) are included.
Case Counseling: Parents and children (3-12 years old) who are emotionally stressed due to changes in family situation. Referrals from the case workers are required.

---
Services Targets
Professionals who are interested in promoting family mental health (MAP facilitator training training)
Families who want to enhance and promote the family mental wellness (psychoeducation programme)
Families who are at risk of parent-child relationship and mental wellness (3-12 years old) after the family adversity incidents (therapeutic groups)
Families who are at risk of parent-child relationship and mental wellness (3-12 years old) after the family adversity incidents, referral by case social worker is required (Case Counseling)
---
Contact and Enquiry
Tel: 3413-1604
E-mail: cs@bokss.org.hk
Click here to download the
2023-2024 Application Form Family Happy Map Project (Programmes and Groups)
2023-2024 Application Form- Family Happy Map Project (Case Referral)