Service Target : Job seekers aged from 15 to 24
With the concerted efforts of Labour Department and employers, the Youth Employment and Training Programme (YETP) provide a comprehensive platform of job search for young school leavers with sub-degree level or below.
Service Period: One Year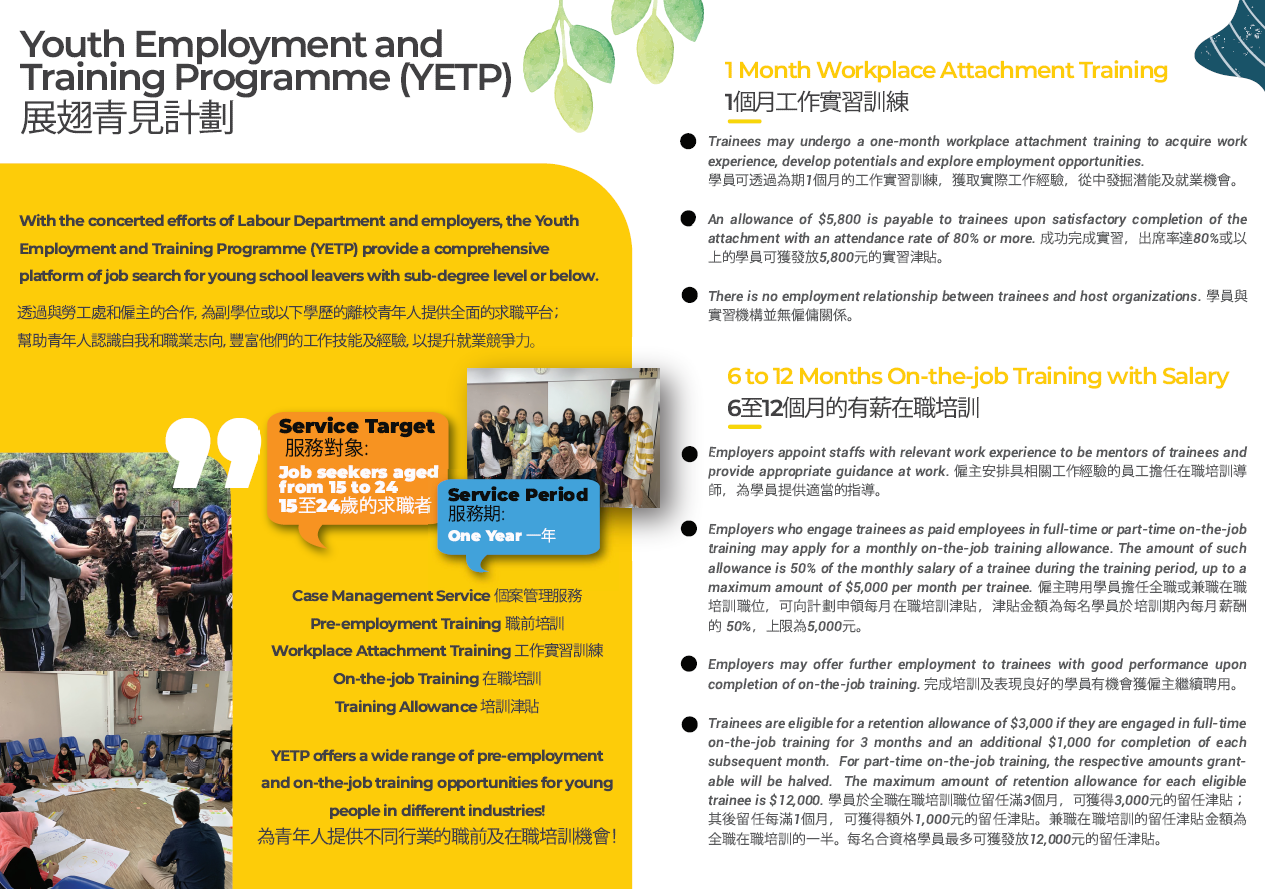 ---
Our Service
Case Management Service
Provide individual career guidance, industry explorations and career transition programs
Job Matching & Vocational Support
Pre-employment Training
Provide vocational skills training
Company visits, employers' sharing, and liaise with corporations and promote multi-cultural working environment
Workplace Attachment Training
Experienced mentors assist work adaptation and provide workplace support
Trainees may undergo a one-month workplace attachment training to acquire work experience, develop potentials and explore employment opportunities.
On-the-job Training
Employers appoint staffs with relevant work experience to be mentors of trainees and provide appropriate guidance at work.
Employers may offer further employment to trainees with good performance upon completion of on-the-job training.
5. Ethnic Minorities Media
Encourage young people to connect to job market and society through social media and own publication EMaz
---
Contact Us
Address

Tel

Office Hour

Hong Kong Island

2/F, 36 Oi Kwan Road, Wan Chai, Hong Kong

3413 1561

Mon-Fri 9:00am - 6:00pm

Sat 9:00am - 1:00pm

New Territories

11/F, Grand City Plaza, 1-17 Sai Lau Kok Road, Tsuen Wan, New Territories

2708 8192

Kowloon

2/F, 323 Shun Ning Road, Cheung Sha Wan, Kowloon

2708 8190

Mon-Fri 9:00am - 6:00pm
WhatsApp:9887 1410
Facebook: https://www.facebook.com/bokssmces
E-mail: mces@bokss.org.hk