Introduction
Baptist Oi Kwan Social Service has launched the Project Eagle to provide a systematic volunteer training with allowance to retired people aged 50 or above to use their knowledge, technique and experience to serve the community and build third age career . Through this project, it can help to create their personal dreams and develop their potentials to achieve the goal "Contribution to Community, Creation of Meaningful Life".
---
Volunteer training programme
(1)Gourmet Ambassador : To assist in preparing nutritious and healthy meal to the elderly.To promote healthy diet to the community. Training content : Elderly physiological and psychological need, healthy cooking and diet, etc.
(2)Administration Ambassador : To assist in providing reception and clerical supportto eldery centres.Training content : Reception and telephone skill, office operation, basic computer application skill, etc.
(3)Health promotion Ambassador : To assist in operating rehab shop. Training content : retailing, inventory management, customer service, etc.
(4)Education Ambassador : To act as a life mentor to provide homework guidance. To share social and personal experience with children from grassroots families. Training content : Child psychological need, child development, family relationship, tutorial class operation, etc.
(5)Sewing Ambassador: To provide needlework services to the community. To produce household rehab products to the elderly. Training content : communication skill, customer psychological need and advanced sewing technique, etc.
(6)Companion Ambassador : To provide day care service to frail elderly such as escorting service, shopping, home visit and etc. Training content : Basic personal care, first aid, psychological and social need of the elderly, etc.
(7)Cognitive Ambassador: To give guidance and accompany with the elderly who are suspected to have suffered or diagnosed dementia to play cognitive games. Training content : Dementia knowledge, cognitive training games, etc.
(8)Square Stepping Exercise (SSE) Ambassador : To assist the SSE instructor in teaching the elderly SSE. To lead the eldery to do warm-up exercise. To perform post exercise test. SSE is an exercise developed from Japan. It enhances balancing skill, thinking skill and the quality of social life, etc.
---
Who can apply?
(1) Retired persons aged 50 or above;
(2) Those who intend to contribute to the community;
(3) Those who are interested to serve the elderly and the community.
---
How can I apply?
(1) Complete the application form (Download from "Publications" section).
(2) Submit in person to the NEC under BOKSS.
(3) Submit by email to pm.eagle@bokss.org.hk.
(4) Submit by mail to Chan Tak Sang Memorial Neighbourhood Elderly Centre
(Address: 1/F, Prosperity Court, 168 Lai Chi Kok Road, Kowloon)
*All applicants must attend interview in advance. Training will be provided to the qualified applicants.
---
Application and Enquiry
Tel:2333 1203(Project Manager)
E-mail: pm.eagle@bokss.org.hk
Website: http://www.elderly.bokss.org.hk
Facebook: https://www.facebook.com/groups/1412386142374825/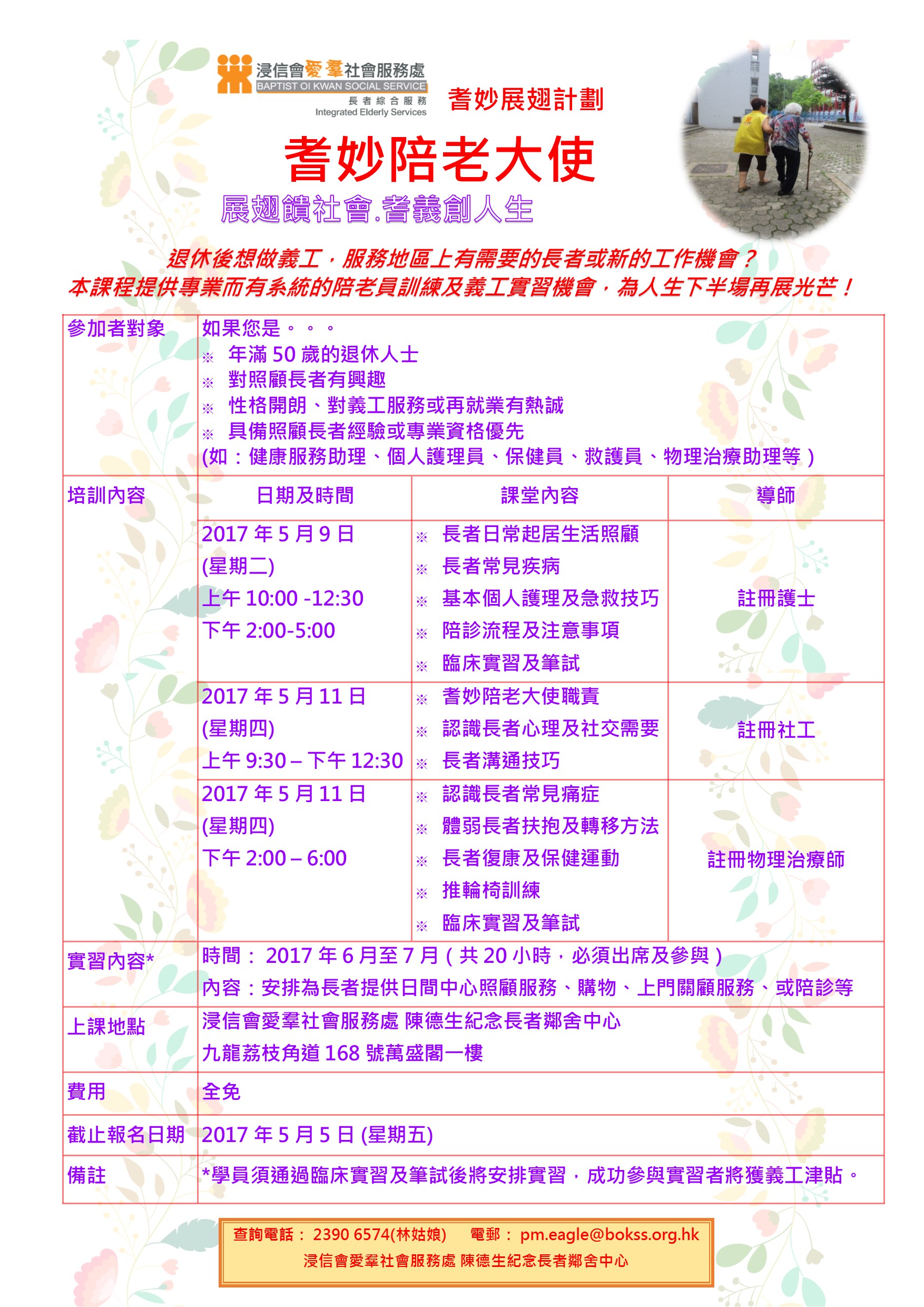 Some of the content are only available in either Chinese or English.