---
Introduction
Integrated Services for Mental Wellness provides occupational therapy and day care training services. We are committed to promoting holistic development in terms of physical, emotional, social and spiritual health within the community while the needy recovered can get access to one-stop integrated services and lead an independent life through occupational therapy training with full utilisation of community resources and vocational training.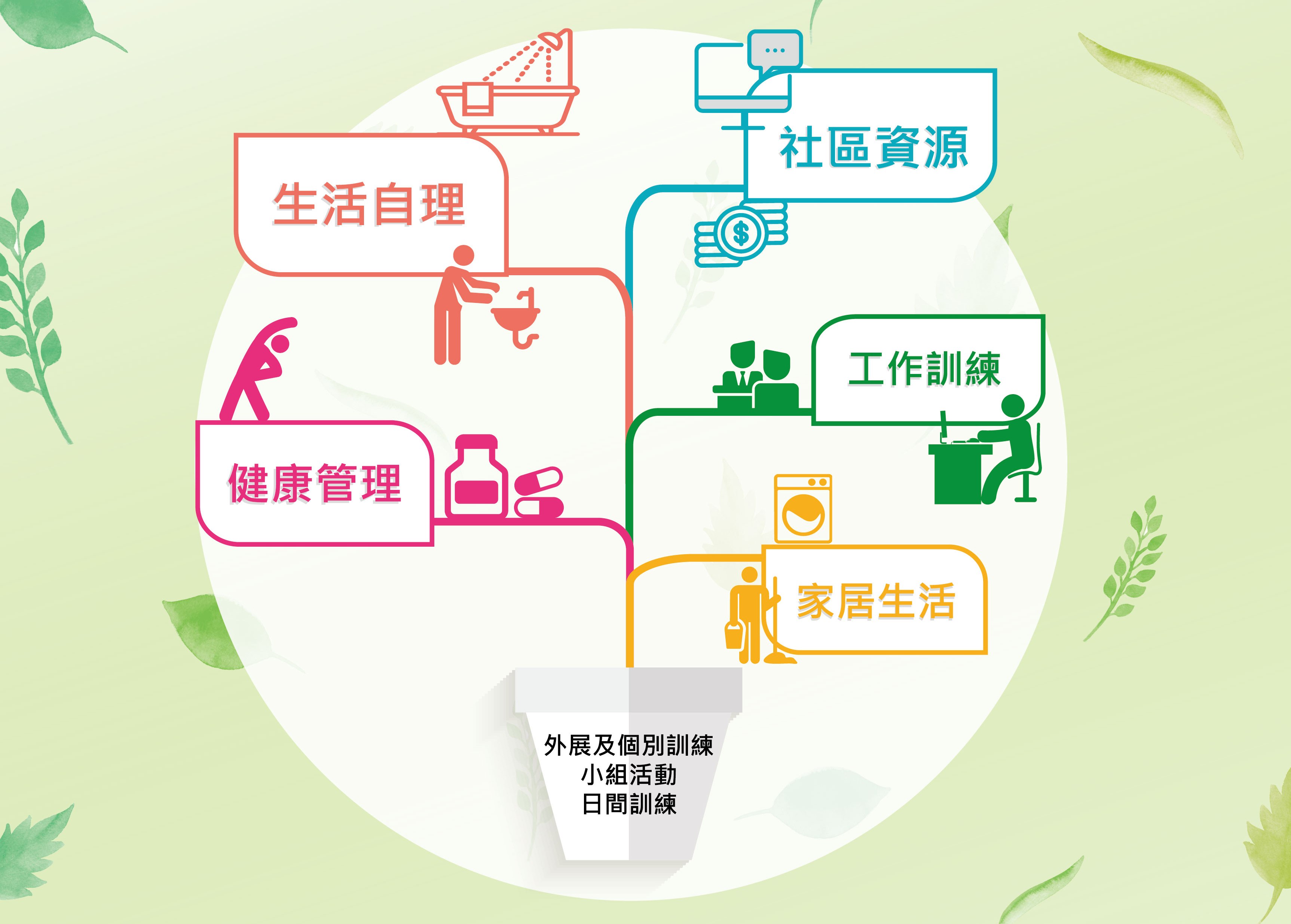 Some of the content are only available in either Chinese or English.
---
What is Occupational Therapy?
Occupational Therapists are involved in the rehabilitation for people with temporary, permanent or developmental disabilities. Through carefully designed activities, therapeutic processes and adaptation of the environment, Occupational Therapy helps in:
Enhancement of both physical and psychological functions

Prevention of illnesses

Facilitation of independent living to improve quality of life of people with disabilities or special needs

Promotion of reintegration into home, work or school and the community
(Reference from Hong Kong Occupational Therapy Association (HKOTA)
---
Assessment Content
Cognitive Ability: Abilities including long- and short-term memory capacity and strategies; People, time, place orientation; Concentration, logic thinking and reasoning abilities.
Self-care Ability: Abilities including personal hygiene habits, appearance, eating habits and daily routine.
Home Management Ability: Abilities including cooking, shopping, money management and house cleaning.
Community Living Ability: Abilities including access of public transportation, banking and other community facilities and environmental safety awareness.
Working Ability: To assess existing work motivation, interests, habits, work related social skills, adaptability and stress management capacity through standard assessment tools and on-site observation.
---
Target
Persons in recovery since secondary school age and above living in the service area.
Mentally stable and is not receiving day or occupational therapy trainings.
Living in Wan Chai and Eastern (except Chai Wan) and Kwai Tsing Districts.
---
Opening Hours
| Time | Mon | Tue | Wed | Thu | Fri |
| --- | --- | --- | --- | --- | --- |
| 9:00am - 1:00pm | | | | | |
| 2:00pm - 6:00pm | | | | | |
Contact and Enquiry
Hong Kong Island
Tel: 3413 1571
Fax: 3413 1656
Address: 8/F, 36 Oi Kwan Road, Wan Chai, Hong Kong
E-mail: ot.hkiiccmw@bokss.org.hk
Kwai Tsing District
Tel: 2434 4569
Fax: 2436 3977
Address: Unit 7-14, G/F, Hang Chi House, Cheung Hang Estate, Tsing Yi, New Territories
E-mail: ot.hkiiccmw@bokss.org.hk